مترجم قرآن الحاج حافظ غلام سرور: چند حقائق کی روشنی میں
Al-Hāj Hāfiz Ghulām Sarwar-Translator of the Holy Qur'ān- in the light of some facts
Abstract
Abstract: ­­­ Al-Hāj Hāfiz Ghulām Sarwar translated the Holy Qur'ān in English in the late 1920's. Academically, it was an excellent work but due to the lack of any organization, social or religious group behind him, he was stuck to the libraries and so did not make it up to the general inquisition of scholars. A.R. Kidwai made a reliable name in the realm of English translations of the Qur'ān all over the world. In spite of the credibility, he has written some unauthentic information about Hāfiz Sarwar's name, date of death, the nature of his job, publication date of his magnum opus, his exegetical notes, his relation with Qadyānism, his paying homage to Maulwī Muhammad 'Alī and Mirza Ghulām Ahmad Qādyānī. All these aspects are discussed and proved with references. The analytical, comparative, and historical approaches have been adopted in this article with qualitative paradigm. A thorough research has been done to prove the orthodoxy of Hāfiz Ghulām Sarwar. The scholars like 'Abdullah Yūsuf 'Alī, Husain Abd-al-Ra'uf, and Dr. Muhar 'Alī, reported him inclined towards Qadyānism. However, recently, Dr Sultān Shah has made an endeavor to reject all such perceptions built by Kidwai to ostracize Ghulām Sarwar. Family history of this translator has never been emphasized enough in the East or West but now with the help of modern resources some facts about the ignored scholar of the Qur'ān are collected and presented.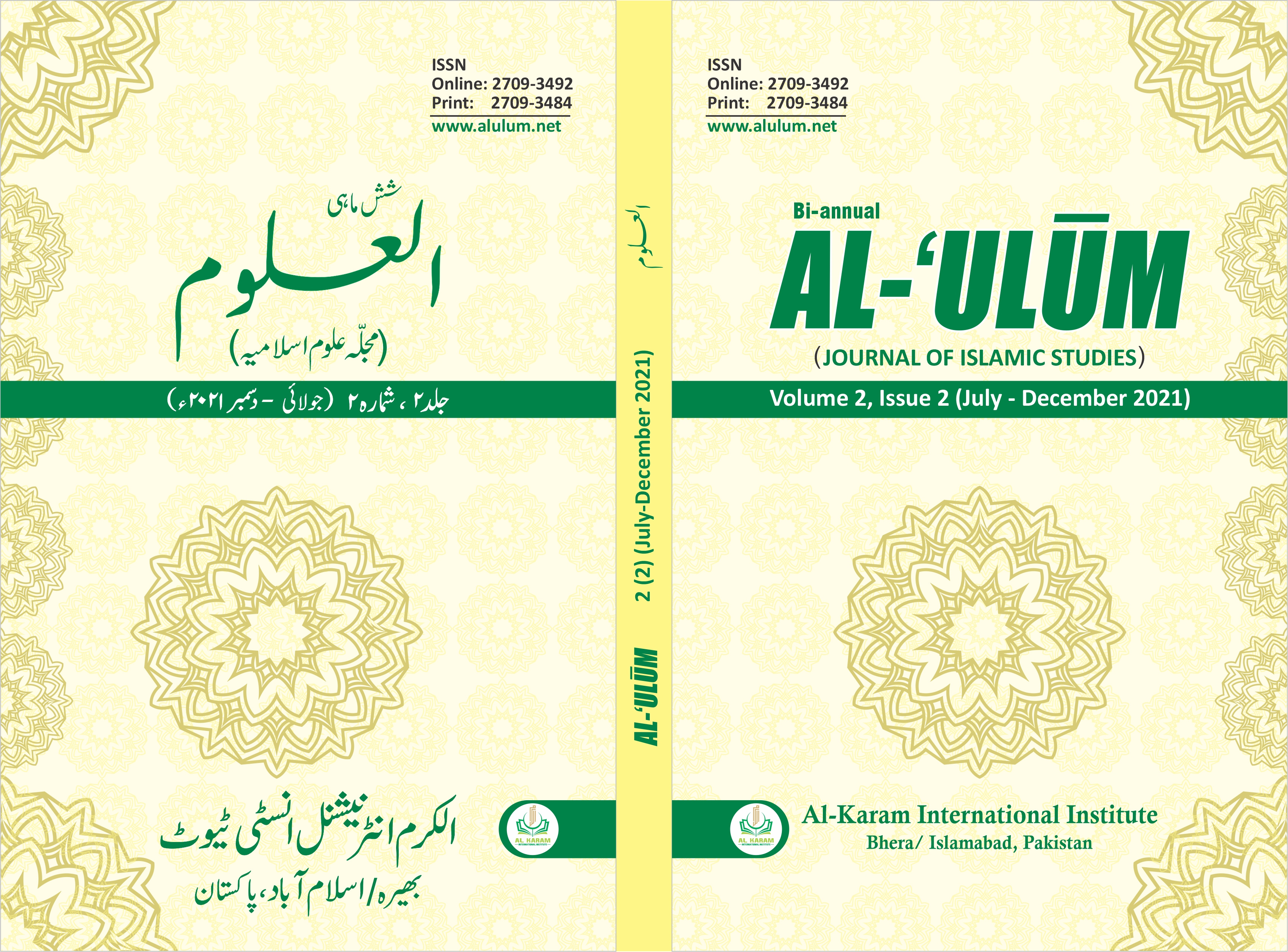 Downloads
How to Cite
Hafiz Khurshid Ahmad Qādri. (2022). مترجم قرآن الحاج حافظ غلام سرور: چند حقائق کی روشنی میں: Al-Hāj Hāfiz Ghulām Sarwar-Translator of the Holy Qur'ān- in the light of some facts. Al-'Ulūm Journal of Islamic Studies, 2(2), 1–26. Retrieved from https://alulum.net/ojs/index.php/aujis/article/view/51
License
Copyright (c) 2022 Al-'Ulūm Journal of Islamic Studies
This work is licensed under a Creative Commons Attribution-NonCommercial-NoDerivatives 4.0 International License.