علامہ سیوطیؒ کی تفسیرالاکلیل فی استنباط التنزیل کی روشنی میں سورۃ النمل کے مخصوص مضامین کا فقہی جائزہ
A Jursitacal Analysis of Selected Topics of Surah alNamalfrom al-Iklīl fī Istimbāt al-Tanzīlby Allama Syūtī
Keywords:
Al-iklīl, Jurisdiction, Animal, Woman, Gift
Abstract
The article is a juristic study on the selected topics from tafsir al-iklīl. It is a need of society to address the challenges which is behind of the research eyes. This research explores such an issue in juristical method. It is permissible to punish a lethargic animal moderately. Allah Almighty had permitted Prophet Sulaiman (A.S) to punish the animals in the same way, as He had permitted people of all ages. A permission which is still valid survives to slaughter them to make use of their flesh, bones, skin etc. Similarly, if the domestic animals, such as cow, horse, camel, donkey etc., do not perform their normal duty, then it is permissible even now to punish them moderately for disciplining. Punishing animals, other than domestic, is not permissible under Islamic law. The punishment should be enforced only when the guilt is established, otherwise he should be forgiven. This Article explores that Allama Sayūṭī explains the need based issues in the society to give their solution. Keeping these views, the article analysis with the exemplary patron of said tafsīr toward particular topics about surah al-Namal.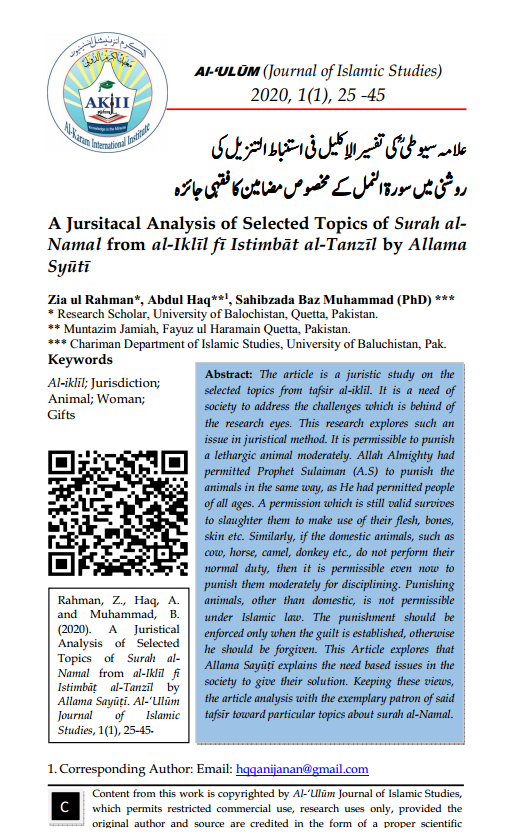 Downloads
How to Cite
Zia ul Rahman, Abdul Haq, & Sahibzada Baz Muhammad. (2020). علامہ سیوطیؒ کی تفسیرالاکلیل فی استنباط التنزیل کی روشنی میں سورۃ النمل کے مخصوص مضامین کا فقہی جائزہ: A Jursitacal Analysis of Selected Topics of Surah alNamalfrom al-Iklīl fī Istimbāt al-Tanzīlby Allama Syūtī . Al-'Ulūm Journal of Islamic Studies, 1(1), 25–45. Retrieved from https://alulum.net/ojs/index.php/aujis/article/view/25
License
Copyright (c) 2020 Al-'Ulūm Journal of Islamic Studies
This work is licensed under a Creative Commons Attribution-NonCommercial-NoDerivatives 4.0 International License.