لسانی جارحیت کا تعارف اور اس کا تدارک :سیرت النبی ﷺ کی روشنی میں تجزیاتی مطالعہ
An Introduction of Oral Aggression, its Causes, Preventive Measures and Remedies in the Light of the Sīrahof the Holy Prophet ()
Keywords:
Language, Agression, Violent, causes, Remiedies
Abstract
This article focuses on the violent language and verbal aggression in day to day gossip, discussion and chat. It is a pity that such talk is becoming a norm in our society although Islam asks its followers to be calm and compassionate and to forgive others. Allah Almighty mentions in the Holy Qur'ān, "And the slaves of the Most Beneficent (Allah) are those who walk on the earth in humility and sedateness, and when the foolish address them (with bad words) they reply back with mild words of gentleness" (Al-Qur'ān, 25:63). The personality of the Holy Prophet (PBUH) is the epitome Islamic teachings. The Prophet was not only humble and courteous towards believers but also tolerant and forgiving towards non-believers. His compassionate behavior and his benevolent attitude won hearts and compelled non-believers to embrace Islam. His courteous behavior was praised by the enemies too. This study labels His teachings as well as examples from His life as a testimony to the true message of Islam. This study is an effort to promote tolerance, patience and harmony in the Pakistani society. It also aims at reducing verbal violence and aggression from the society.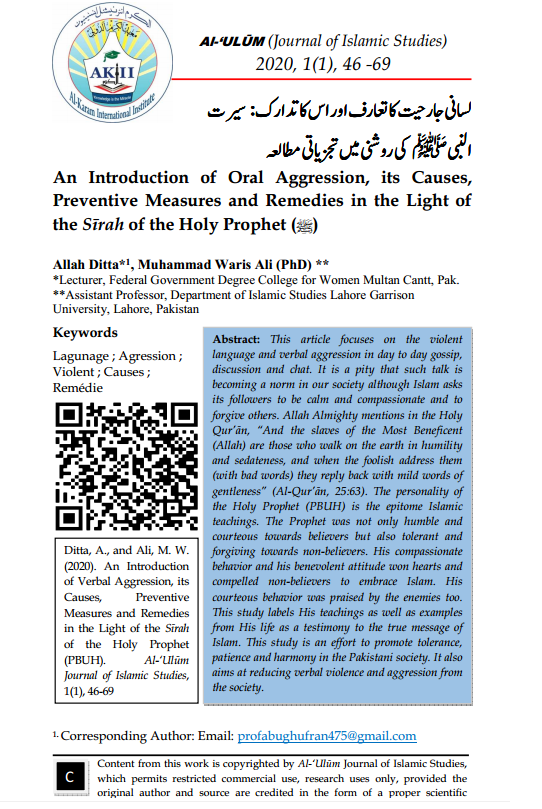 Downloads
How to Cite
Allah Ditta, & Muhammad Waris Ali. (2020). لسانی جارحیت کا تعارف اور اس کا تدارک :سیرت النبی ﷺ کی روشنی میں تجزیاتی مطالعہ: An Introduction of Oral Aggression, its Causes, Preventive Measures and Remedies in the Light of the Sīrahof the Holy Prophet () . Al-'Ulūm Journal of Islamic Studies, 1(1), 46–69. Retrieved from https://alulum.net/ojs/index.php/aujis/article/view/24
License
Copyright (c) 2020 Al-'Ulūm Journal of Islamic Studies
This work is licensed under a Creative Commons Attribution-NonCommercial-NoDerivatives 4.0 International License.