قرونِ وسطیٰ اور دورِ جدیدکی خواتین کا دعوتی کردار: ایک تجزیاتی مطالعہ
The Role of Women of the Middle Ages and Modern Era in Da'wah (Propagation): An Analytical and Comparative Study
Keywords:
Da'wah, Muslim Women, Middle Era, Current Scenario, Methodology
Abstract
After a brief sketch of Da'wah, this article aims to discuss the contributions of Muslim women of the middle ages and their struggle in relation to the role of women in the current context. The pivotal point of the paper revolves around the role and contribution of women from the middle era in Da'wah. The basic sketch of this struggle has been drawn in order to arrive at a possible line of action to be followed by the women of the modern age. Keeping in mind their difficulties facing due to various trends of the prevailing situation. Employing an analytical method, we can know some methodological awareness from different women's scholarships, for example, in the field of exegesis, ḥadīth, fiqh, mystical approaches, as well as pedagogical trends to know what styles and manners are required to be adopted by the women of the modern age in the light of earlier endeavors for Da'wah, especially from the middle ages. Is there any strategy or set of techniques to be exercised by the women in the present era that may bring into play to enhance Da'wah struggle in the age of Modernity.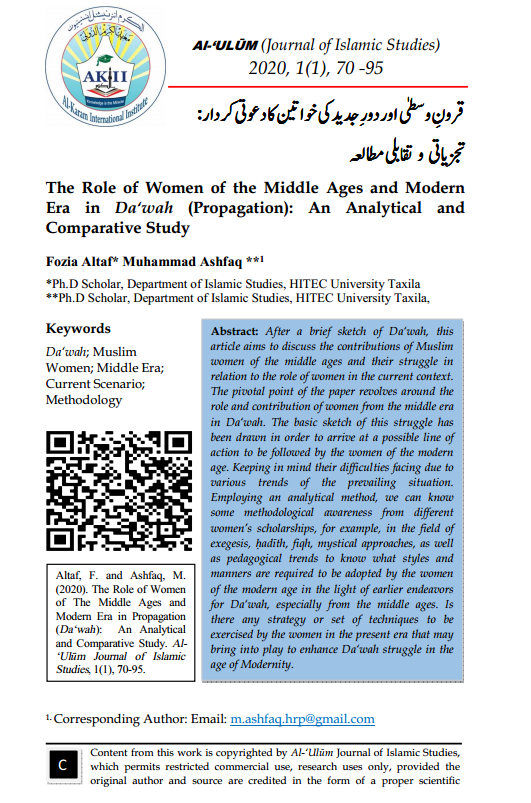 Downloads
How to Cite
Fozia Altaf, & Muhammad Ashfaq. (2020). قرونِ وسطیٰ اور دورِ جدیدکی خواتین کا دعوتی کردار: ایک تجزیاتی مطالعہ: The Role of Women of the Middle Ages and Modern Era in Da'wah (Propagation): An Analytical and Comparative Study. Al-'Ulūm Journal of Islamic Studies, 1(1), 70–95. Retrieved from https://alulum.net/ojs/index.php/aujis/article/view/23
License
Copyright (c) 2020 Al-'Ulūm Journal of Islamic Studies
This work is licensed under a Creative Commons Attribution-NonCommercial-NoDerivatives 4.0 International License.